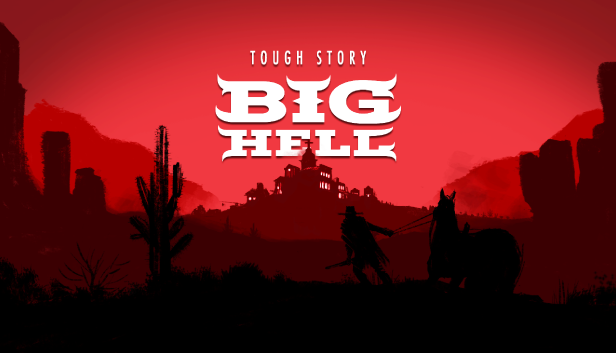 Tough Story: Big Hell
A downloadable game for Windows, macOS, and Linux
Tough Story
Tough Story is a handcrafted game series based on action movies from 60s until nowadays.
Every volume brings a whole new theme, with exclusive story, characters and original soundtrack as if it were a movie itself. New game mechanics are added to follow the main theme of the current volume, but the core will always have focus on action.
I grew up watching so much amazing action movies and Tough Story is my attempt to bring some badass experiences to you, based on work of all these great actors and directors who have pumped up adrenaline to the screens!
Volume I - Big Hell
On this first volume we bring a game inspired by western movies. In special: the classical Sergio Leone's Dollars Trilogy, 70s Clint Eastwood's westerns (as director and actor), the award-winner Unforgiven, also directed and starred by Clint Eastwood and Django Unchained, the epic Tarantino's masterpiece.
You can try the free demo on this page.
For the full version check this game on Steam.
Plot
It's 1872. Somewhere between Reno and San Francisco there's a town called Big Hill.
City's boss sons, The Kinney Brothers, decide to buy your lands in order to explore your gold mine. When you refuse their offer, they hire a gang of desperados to take you out of the way.
El Lobo, desperado's gang leader, kills your wife and lets you wander to die in the desert with six bullets in your stomach.
A group of mysterious men crosses your way. They find you almost dead and heals you in a very obscure ritual.
Some years later, you arrive on Big Hill city looking for retribution and threatening the local bosses business. Side by side, Kinney brothers and El Lobo raise an empire of dirt. Your crusade for vengeance will turn the city in a true hell until you make your job done.
Gameplay
You're able to shot down your enemies with your handguns: a shiny revolver S&W model 3 Schofield and a 10 gauge shotgun. You can also blow enemies to hell and destroy walls, doors and other obstacles with dynamite. You can shot the dynamite to explode it before the wick time.
Besides that, you have the special ability to slowdown the time and make nice combos or cinematographic moves when you fill the badass-o-meter.
You're free to use your own tactics to pass each level. You can break and you can shot through windows, kick locked doors to open it, get cover into buildings and close doors to protect yourself. But remember: the enemies can do all this things, too!
If you shot an enemy on an arm, he'll lose his weapon. The same rule fits for you, so take care!
In some levels you'll ride a horse to pursuit and kill your enemies in the hell-bent-for-leather style!
Features
Top-down shooter with hardcore tone;
Fast-paced action;
Gunfights;
Pixelated graphics;
Amazing OST;
Chapter's ranking system;
Controls
WASD - move;
Mouse - aim;
Left mouse button - shot revolver;
Right mouse button - shot shotgun;
Q - throw dynamite;
R - hold to reload guns;
E - deadeye, when badass-o-meter runs full;
Space - hold body and shotgun rotation, free to aim with revolver;
Escape - pause game and open menu options;
Original Soundtrack
Music is very important to the game experience as well in the movies. So, as example of various sucesfull partnerships between movie directors and music composers, like Leone with Morricone, Coppola with Rota and Lynch with Badalamenti, we have a musician working to turn air into gasoline while you play this game.
All tracks of Big Hell are fully original compositions, inspired by Ennio Morricone's Works but adding a heavier tone, dramatic beats and badass riffs to create an updated and awesome experience in game.
You can check the OST on the playlist below:
Team
Outlaw is our team's brand. We're formed by:
The musician Douglas Brantes, who is composing and playing awesome music.

The "bit artisan" William Schütz, who is handling game design, art and programming.
Feel free to follow or contact us through direct messages on twitter or in the community bellow.
Changelog
v. 0.2.0 03/23/2017
Added tutorial;
Improved controls, physics and IA;
Barrels now explode if hit by one shot;
Boxes now only explode if hit by explosion;
Locked doors now open on first try;
Transitions are now skippable by pressing escape;
Combo system;
Extended slow motion
v. 0.3.0 05/31/2017
Improved artwork;
Balanced weapon power and range;
Improved design;
Upcoming Features
Improved animations;
History cutscenes;
New original tracks;
New chapters;
New IA behaviours;
Level rank;
More adrenaline!
| | |
| --- | --- |
| Status | In development |
| Platforms | Windows, macOS, Linux |
| Rating | |
| Author | wischutz |
| Genre | Action |
| Tags | 2D, Cult Classic, Destruction, Difficult, Fast-Paced, Music, Pixel Art, Top down shooter, Violent, Western |
| Average session | A few minutes |
| Languages | English |
| Inputs | Keyboard, Mouse |
| Links | Steam |
Download
Click download now to get access to the following files:
tough_story_vol_i_win64.zip
19 MB
tough_story_vol_i_osx.zip
21 MB
tough_story_vol_i_linux.zip
22 MB